A Home Away From Home
We understand that it can be stressful to leave your pet when you go out of town — especially if they are ill, or when they are recovering from a procedure or surgery. At Pets on Broadway Animal Hospital, we want to help put your mind at ease. 
We provide complete daycare and general boarding services for all of our clients, and medical boarding services for pets with conditions standard boarding centers may not be equipped to accommodate.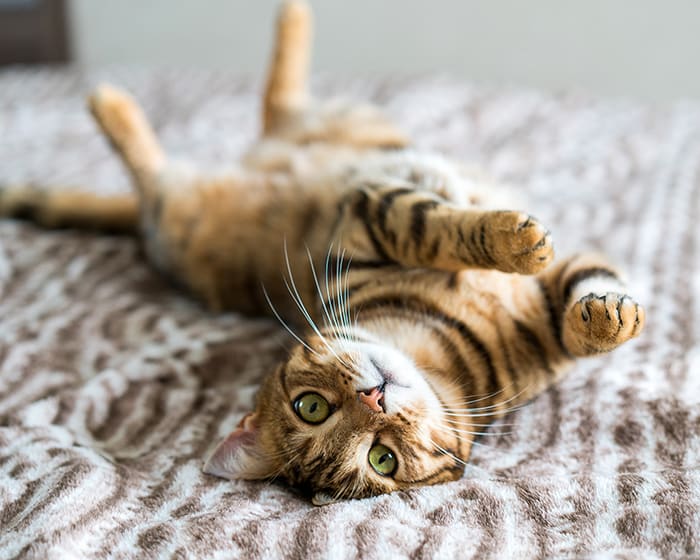 Boarding: A Typical Day
Dog Boarding
Each morning, our kennel attendants will arrive at 7:00 am to refill your pooched food and water, regularly take them for potty breaks, and shower them with lots of TLC so they don't feel lonely. Canine guests go out in our backyard several times daily for exercise and playtime. Finally, they will be fed their dinner and tucked in for the night.
Their kennels are cleaned, disinfected, and stocked with fresh linens daily and your dog will also have supervision throughout their stay with us – from 7:00 am to 8:30 pm every day.
Cat Boarding
Your cat will be fed according to your specifications and their requirements, to ensure their routine is the same as it is at home.
We provide daily one-on-one interaction with kitties (if they want it!) including play, snuggles, and pets. Litter boxes are checked, cleaned, and disinfected periodically throughout the day.
Additionally, we refresh linens and clean your kitty's room daily. Our cat boarding area is separated from the dog area to ensure your kitty feels relaxed and safe while they stay with us.
Medical Boarding
We are experts in caring for pets with special needs, such as diabetics, kidney patients, or pets needing other medications or additional monitoring. Our experienced attendants will advise our professional staff if a significant health concern develops.
FAQs About Pet Boarding
Whether you are planning a long weekend or a well-deserved vacation, we can provide the care your pet needs so that you can have peace of mind.
Read our FAQs for answers to our most frequently asked questions about pet boarding at Pets on Broadway Animal Hospital.
If you have further questions about boarding, please feel free to contact us!